Information regarding the actual date is vague but a relatively accurate timeline of events is possible.
Before the series
Edit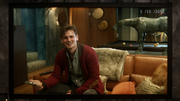 These are all of the events that were referenced/mentioned throughout the series that have happened prior to the landing of the 100 on Earth. All dates are backtracked from the confirmed date of the nuclear apocalypse, stated to have been in 2052. This is used as Ark Year 1 (year zero doesn't exist in common calendars), the first year people lived on the Ark.
In the series
Edit
Season One starts when the 100 were sent to Earth on Saturday, September 13, 2149[2] and is considered "Day 1."
Season Two begins a day after season one and ends on November 3, 2149.[3]
Season Three begins after a time skip[4] on January 27, 2150.
Season Four begins right after season three ends.
Season Five begins after a time jump of six years and seven days later.
Timeline Quotes
Jaha (to Abby about the re-vote on The Culling): "You have ten days."
-- in Earth Skills
Raven (to Abby): "God, what a piece of junk. They must have found this thing when they Salvaged MIR-3 in 2102. You want me to get a 130-year-old escape pod ready to stand up to the inferno of re-entry in 9 days?"
-- in Earth Skills
---
Bellamy (about Jasper): "You don't have the guts to make the hard choices. I do. He's been like this for 3 days. If he's not better by tomorrow, I'll kill him myself."
-- in Earth Kills
Jake Griffin (about the 2001 FIFA game): "Actually, it was over 147 years ago."
-- in a flashback to a year ago in Earth Kills
---
-- in Murphy's Law
---
Jaha: "Abby, The Council approved Kane's population reduction plan 3 hours ago.... We start in 12 hours."
-- in Murphy's Law
---
---
---
Clarke: "How long have I been asleep?"
Abby: "About 10 hours."
-- in Human Trials
---
Timestamp: "2 Days Later."
-- in Fog of War
Lorelei Tsing: "Sir, it's been 3 days and Maya's numbers are still climbing. It's too soon to be sure, but I believe she may actually be metabolizing radiation on her own now. Jasper's blood was 8 times more effective than any Outsider we've ever measured. I'm still running tests, but his system appears to have jump-started hers."
-- in Fog of War
Marcus Kane (to Thelonious Jaha): "Two days without food or water."
-- about being imprisoned by the Grounders in Fog of War
Thelonious Jaha: "I have a message from the commander. Leave or die. We have two days."
-- in Fog of War
---
Abby: "We have two hours till dawn."
-- referring to the expiration on Lexa's two-day ultimatum in Long Into an Abyss
---
---
-- about Octavia in the Tondc bombing in Bodyguard of Lies
---
Dante Wallace (to Cage Wallace): "One week in office, and you've managed to turn neighbor against neighbor, you've made the outsiders hate us more than they already did, you've lost our outer defenses, and now a door that hasn't been breached in 97 years is going to fall, and an army of savages is going to flood these halls, killing every last one of us."
---
Murphy (recording a video for Jaha): "86 days. I'm on my last box of food, so.... Really never thought I'd miss the Ark this much but anyway, Jaha, if you're seeing this, it would mean you are not dead so... SCREW YOU!"
-- in Wanheda (Part 1)
---
Abby: "Lincoln, you said to me yesterday that even our supply runs were putting us at risk. They were jeopardizing our peace. How would you advise me now?"
-- in Wanheda (Part 2)
---
-- in Ye Who Enter Here
---
Titus: "Yesterday Skaikru took the brand."
-- in Watch the Thrones
Pike: "... I lost more than half of my remaining people yesterday ..."
-- in Watch the Thrones
-- in Watch the Thrones
-- in Watch the Thrones
-- in Watch the Thrones
---
---
References
Edit