"
You're wrong, there are people worth saving - just not you.
"
— Octavia to Luna

Octavia Blake is a major character in the first, second, third, fourth, and fifth seasons. She is portrayed by starring cast member Marie Avgeropoulos and debuts in the series premiere.
In the first season, Octavia often helped Clarke as a medical assistant and collects information on Grounders for the Delinquents. She is part of the original 100 and was sent to juvenile lockup for being a second child.
While on Earth, she has faced many challenges: learning to be free, fighting for the survival of the Delinquents, trying to get into Mount Weather and save her friends, stopping A.L.I.E., and losing Lincoln.
Octavia was the lover of Lincoln. She embraces Grounder culture early on having never felt a part of the Sky People due to the circumstances of her birth, opting to wear Grounder clothing as well as applying Grounder war paint and getting at least one tattoo. She is also the first to start speaking Trigedasleng, the Grounder language
Early Life
Edit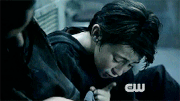 Aurora Blake
, her mother, was forced to keep her second pregnancy a secret because of the one child law on
The Ark
. A young
Bellamy
watched his mother give birth to his sister and even helped keep her quiet afterward. After the child was born, Aurora told Bellamy to name her. He had learned about the Roman emperor,
Augustus
, and named his sister after the emperor's sister, Octavia. Aurora told Bellamy that Octavia was his responsibility. He told her he loves her very much and promises to keep her safe, no matter what may happen.
Because Octavia was an illegal second child, she had to be kept hidden in their room, never venturing out. Bellamy would tell her stories and play with her, telling her about the Ark. Their mother would also read them mythology, which Octavia loved. Octavia would also help Aurora, who was a seamstress on the Ark. In order to find out about the surprise inspections ahead of time, Aurora was sleeping with an Ark Guard and she was also trying to get Bellamy a position on the guard. During these inspections, Octavia was forced to hide under the floorboards and wait quietly until they were done. Bellamy told her to tell herself, "I am not afraid."
Octavia was finally exposed a year before they were sent to earth. Bellamy had become an Ark Guard Cadet and was able to get duty during the Unity Day masquerade party. He sneaks Octavia out of their room for the first time in her life so she could attend and promises her that he'll keep her safe and deliver her home before their mother even knows they're gone. The party is disrupted by a solar flare alert, requiring everyone to show ID. Since Octavia didn't have any ID, they knew they would be caught. Bellamy tells her to go straight back to their room and hide while he creates a distraction, sacrificing himself, but Octavia doesn't know how to get back to their room. Commander Shumway notices that Bellamy has his shock baton out and starts to question them. Bellamy begs Commander Shumway to let her go, but he refuses stating Bellamy is not a guardsman yet. Octavia tries to run but is easily captured. Octavia is locked up, and Bellamy loses his sister, his mother, and his chance to be an Ark guard and becomes a janitor.
Over the next year, Bellamy is unable to see Octavia in Lockup. He is then approached by Commander Shumway who tells Bellamy that 100 prisoners are being sent to the ground, among them his sister. He offers Bellamy the chance to go to Earth and protect Octavia but only if he shoots and kills the Chancellor. Bellamy accepts the deal and stows away on the dropship.
Throughout the Series
Edit
Physical Appearance
Edit
Octavia has olive skin, green eyes, and long dark brown hair. She has a toned build and is of average height. Octavia appears to be in her mid-teens. She bears a similar appearance to both her mother and her brother, though
she and Bellamy
are half-siblings. Later she is seen to wear war paint like a Grounder. In the original pilot script, she is described as strikingly beautiful.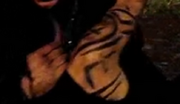 Octavia has a tattoo on her right shoulder and upper arm, first seen in "Wanheda (Part 2)" and is similar in design to Lincoln's tattoos.
Personality
Edit
Octavia is uninhibited and fierce. After being hidden her entire childhood in order to keep from being discovered Octavia is free for the first time in her life, something she embraces even as she struggles with it. She is brave and self-confident. Octavia has a short temper and is prone to outbursts and violence. She sees only in black and white, and judges people harshly as a result. She cares deeply for the people she loves, including her brother Bellamy and her deceased lover, Lincoln. Starting in "We Are Grounders (Part 2)" Octavia is shown to be much more violent and after becoming Indra's Second in "Survival of the Fittest," she more and more acts like a Grounder in her approach to violence.
Relationships
Edit
Appearances
Edit
Season Three
Octavia Blake: "And don't tell me about the kill order. We can go far away. Luna's clan will take us in."
Lincoln: "No, they won't. Luna's hiding for a reason. She won't risk the attention."
---
Octavia Blake: "Don't do anything stupid."
Jasper Jordan (about Mount Weather): "Like coming back here?"
Octavia Blake: "It will get better."
Jasper Jordan: "When?"
---
Octavia Blake: "36? Wow. The Grounders are gonna think we moved in."
Octavia Blake: "This is such a mistake. The Grounders will never accept it."
Bellamy Blake: "We're not the Mountain Men, O. Nyko, and Lincoln will make them see that."
Octavia Blake: "How? Lincoln has a kill order on him? He can't even leave camp without risking his life."
Bellamy Blake: "The summit will take care of that."
Octavia Blake: "Then we can finally get out of here. I'm sorry, Bell. I don't fit in here."
Bellamy Blake: "If you need to leave, I get that, but you'll always fit in with me."
---
Marcus Kane: "You get out there, you find out what the hell happened and you report back here. Can you do that?"
Octavia Blake: "I was born for this."
Bellamy Blake: "I'm serious. Look at yourself. It is time to stop playing Grounder before you get yourself hurt."
Octavia Blake: "I'm not playing anything. This is who I am. You're my brother, I shouldn't have to tell you that."
Bellamy Blake: "You can't just hit a guard."
Octavia Blake: "I just did. Let her go."
-- Hakeldama
---
Octavia Blake (to Indra): "I need the woman who I served as second. I need the warrior who taught me to be who I am-"
Octavia Blake: "You can't Clarke! We don't have time for this! Look, we need you. The kill order goes into effect at dawn. You have an hour to say your goodbyes. If you're not there, you're not the person I thought you were."
-- Thirteen
---
Octavia Blake (to Bellamy Blake): "You're the reason they need saving."
Marcus Kane: "It's a little bit tight in there."
Octavia Blake: "Try doing it for 16 years."
Octavia Blake: "Fine I'm going with you. Oso thro daun ogeda."
---
Octavia Blake: "Turning Pike in does not make you one of the good guys Bellamy! You did that to save me. Not because you thought what Pike was doing to the grounders was wrong."
Bellamy Blake: "The grounders were starving us out."
Octavia Blake: "Because you massacred an army that was sent to protect us."
Bellamy Blake: "That army could've attacked at any time and you know it."
Octavia Blake: "But they didn't attack you did that. You were hurting and you lashed out cause that's what you do. There are consequences Bell, people get hurt. People die, your people. Monroe's dead, Lincoln is dead."
Octavia Blake: "Lincoln was my people. I'm not Trikru, I'm not Skaikru, I'm nothing."
Monty: "You're one of the hundred."
Octavia Blake: "Not anymore."
-- Nevermore
---
Jasper Jordan: "Remember when you told me it... it gets better."
Octavia Blake: "This is not the same thing."
Jasper Jordan: "It's ok to fall apart, Octavia. You loved him."
Octavia Blake: "A warrior doesn't mourn the dead until the war is over."
-- Demons
---
Octavia Blake: "I don't know. I can't even look at you because every time I see you I see Pike putting that gun to Lincoln's head, I hear the gunshot, I see him fall."
Bellamy Blake: "I didn't kill Lincoln."
Octavia Blake: "No but he is dead because of you!"
-- Join or Die
---
Octavia Blake: "So, much for the great Luna. The savior of those in need."
Luna: "You don't want saving. You want someone to fight with you."
Octavia Blake: "Damn right! We're at war. Luna, you can't just ignore that. Lincoln would've wanted you to help us."
Luna: "By becoming Commander? I don't think so. Lincoln knew our rules. We take people in who are done fighting. Done killing. Look at you. Fighting is all you know. Death is all you know. Lincoln would've never brought that here."
---
Season Four
Octavia Blake: "If either of you screw this up, we die. No pressure."
-- Echoes
---
Octavia Blake: "It's the end of the world, Kane. Darkness is all we have left."
-- We Will Rise
Octavia Blake: "My people, my responsibility."
-- ""The Chosen""
Killed Victims
Edit
Notes and Trivia
Edit
Octavia may be descended from The Grounder Tracy Blake.
Kass Morgan revealed that Octavia was named after Octavia E. Butler, a female writer who was the first science fiction writer to win the Genius Grant.[1]
The second child and younger sister of Bellamy Blake. Due to the one-child law, she was born a crime. [2]
Bellamy and Octavia share the same mother, it was confirmed they have different fathers.
Bellamy helped deliver her. [3]
Bellamy named her after Octavia the Younger, Augustus, the first Roman Emperor's sister .[3]
When discovered, her mother, Aurora Blake, was floated for breaking the law, and Bellamy lost his job.[3]
First Sky Person to be in a relationship with a Grounder. Followed by Clarke & Lexa and Murphy and Emori.
First Sky Person to adopt Grounder ways and start learning. [4]
1/8 people who wasn't taken by the Mountain Men in the Season One finale. The others were: Bellamy Blake, Sterling, Zoe Monroe, Finn Collins, John Murphy, Raven Reyes, and an unnamed delinquent. [5] [4]
Octavia's choice of weapon is a sword. [4]
Octavia has been used as Reaper bait twice: first in the woods as part of Indra's plan, second in the underground parking lot to lure Lincoln to her. [6] [7]
Acquired a horse and named him Helios. [8]
Echo betrays Bellamy and Octavia during The Summit, so Queen Nia could have her war. [9]
While in prison, Octavia attended an Earth Skills class taught by Charles Pike. Her class included Jasper Jordan, Harper McIntyre, Nathan Miller, Fox and John Murphy among others. [10]
Marie Avgeropoulos does her own stunts. [14]
Appeared in every episode, except two. The only characters in more are Clarke Griffin and Bellamy Blake
Hinted by Jason Rothenberg that Bellamy would not like the way Octavia has been leading the Wonkru.
Jason Rothenberg hinted that fans will be surpised of where Octavia will end up in Season Five.
See Also
Edit
References
Edit