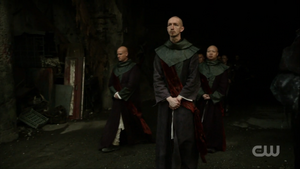 The Flamekeepers (or Fleimkepa in Trigedasleng) are a spiritual group of Grounders, who are members of the Coalition.
The Flamekeepers are responsible for retrieval of the Flame from the previous Commander and overseeing the Conclave for the selection of the new Commander. The spiritual leader of the Flamekeepers is in charge of the duties, and is an adviser to the Commander of the Coalition.
The Flamekeeper uses their scouts to find Nightbloods. When a Nightblood child is discovered, they are brought to Polis to begin training for the Conclave. The belief among Grounders is that the Commander's spirit (in fact the A.I. chip of A.L.I.E. 2.0) "chooses" its successor through this process.
Once the victory horn is sounded the victor is taken to the temple, where the Flamekeeper performs the ascension ceremony in which the victorious Nightblood becomes the Commander. The Flame is taken from the neck of the old Commander and is implanted into the neck of the new one by the Flamekeeper. The new Commander is then endowed with the spirits of all the past Commanders.
Notable Members:
Acting Members:
See Also
Edit