Among the various human factions on the ground and in space, punishments for various crimes take many forms depending on the severity of the crime and the age of the criminal. Prisoners of war are also confined and/or tortured.
Death by a Thousand Cuts
Edit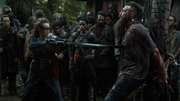 Capital punishment in the form of Death by a Thousand Cuts occurs when every single member of the clan takes a turn cutting the convicted person before feeding them to bugs. For more egregious crimes (as in the case of Finn Collins), they start with fire and take the hands, tongue, and eyes. Everyone gets a turn with the knife before the Commander ends it with their sword if the person is still alive by then. In other variations, the number of cuts the person is sentenced to correlates with the number of deaths the person is charged (as in the case of Carl Emerson).
Notable Crimes
Edit
Imprisonment
Edit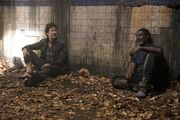 The Grounders also have their own holding cell for prisoners. After Thelonious Jaha was sold to a bounty hunter, he was delivered to the Commander and imprisoned in an underground subway station. When Marcus Kane followed Rivo to a Grounder village, he was also apprehended and placed into the same room with Jaha. The Commander expected the two to battle to the death in retribution for the Tondc massacre, however, ultimately ended up releasing both of them in an attempt to get the Sky People to leave their lands.
Banishment
Edit
In the Grounder culture, there are Grounders who have no clan because they or a family member may have been seen as a "stain on the bloodline" due to birth defects and cast out, as in the cases of Zoran and Emori.
Notable Banishments
Edit
Other Forms of Punishment
Edit
Torture is used by the various factions to get information out of prisoners of war. In Season One, Murphy was captured by outcast Grounders, including Delano, and was tortured for three days for information on the Delinquents, which he ultimately provided. He was later released to spread a hemorrhagic fever infection to the Delinquents. Later, Murphy ran away from the Camp and was recaptured and tortured by Grounders again, this time by Tristan and Anya. In Season Three, Murphy was captured by Grounders for a third time after stealing from the Commander's forest and was tortured by Titus for information.
Lexa mentions that the Ice Nation tortured Costia for information before beheading her.
Kill Order
Edit
The Commander can place a kill order on someone's head and only she can remove it. A kill order was placed on Lincoln's head for an unspecified reason, leaving him effectively imprisoned at Arkadia.
Notes & Trivia
Edit
Death by a thousand cuts is a real-world ancient form of execution, in which the condemned person was subjected to a number of less devastating wounds over time prolonging his agony.
Ad blocker interference detected!
Wikia is a free-to-use site that makes money from advertising. We have a modified experience for viewers using ad blockers

Wikia is not accessible if you've made further modifications. Remove the custom ad blocker rule(s) and the page will load as expected.