"
Clarke. Who we are and who we need to be to survive are very different things.
"
— Bellamy to Clarke.

Contents Under Pressure is the seventh episode of the first season of The 100. It is the seventh episode of the series overall. It aired on April 30, 2014. It was written by Akela Cooper and Kira Snyder, and directed by John Showalter.
Clarke and Raven make contact with the Ark. Abby guides Clarke through a dangerous procedure in a desperate move to save one of their own. Meanwhile, Bellamy tries to gain answers from his newly captive Grounder. It's a race against time when the group realizes they need the Grounder's help.
Meanwhile, on the Ark, Abby is removed from the Council, and former Chancellor Diana Sydney wants her spot. Kane begins to deal with his guilt over his recent decision and Jaha reveals devastating news: not everyone on the Ark will make it down to Earth.
The Camp is battening down the hatches in preparation for a hurricane while Raven tries to get through on the radio to the Ark and Clarke is tending to a severely injured Finn.
Up on the Ark, Abby is before the Council and is told that even though she had broken laws and should be floated, they need her medical expertise too badly so she's received a stay of execution. However, she is being stripped of her council position immediately. They suddenly hear Raven calling over the Ark-wide channel, asking for help from the ground. Sinclair boosts the signal and Abby is able to talk to Clarke for the first time. Clarke asks for help with Finn and tells Jaha that Wells didn't make it. Sinclair patches Clarke through to Medical so Abby and Jackson can help Clarke with Finn's stab wound. The storm, however, temporarily disrupts the communications.
Octavia returns to the drop ship with Monty's moonshine to help disinfect Finn's injury. Bellamy, Miller, and Drew return, carrying the unconscious Grounder who had saved Octavia's life and stabbed Finn into the drop ship. Bellamy tells them to tie him up on the third floor while they send the rest of the Delinquents to the second floor to give Clarke room to work on Finn. Abby gets back on the radio and Clarke describes Finn's injury to her.
Octavia has followed Bellamy up to the third floor where he's tied up the Grounder. She tells Bellamy that the Grounder saved her life and he doesn't have to hurt him. Bellamy makes her leave.
On the Ark, former Chancellor Diana Sydney approaches Chancellor Jaha and tells him that the workers are getting disgruntled after the Culling, especially now that they know the ground is survivable. She wants Jaha to know she is on his side.
Abby guides Clarke through removing the blade from Finn's side. As Clarke is doing so, the storm gets worse and debris hits the drop ship, knocking everyone down, including Clarke and Finn. Luckily, the blade was removed without doing further damage.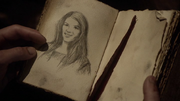 Bellamy beats the Grounder, trying to get information about the other Grounders. The Grounder's bag is then looked through and a collection of vials and a journal are found. The journal shows he's been spying on the Delinquents and has taken a particular fancy to Octavia, much to Bellamy's displeasure.
Clarke finishes stitching up Finn's wound and realizes he is feverish. Abby wants to talk with Clarke but Clarke leaves to the third level. Bellamy asks how Finn is doing and shows Clarke the journal, telling her they're fighting a war. Raven calls up to Clarke that Finn has started seizing so Clarke rushes back down to him.
On the Ark, a disheveled Marcus Kane visits with his mother, Vera Kane, at the memorial for the victims of the culling. He is confronted by Cuyler Ridley whose wife died in the culling and is shoved down. Jaha interrupts and puts a halt to it, calling for a General Assembly of the Station Representatives to give the Sky People the truth. Jaha then sends everyone away before telling Kane to pull himself together.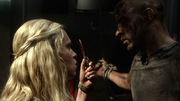 Clarke is able to stop Finn from seizing and quickly realizes that the blade Finn was stabbed with had been poisoned. She heads back up to the third floor with Octavia following her. Bellamy remembers the vials and they ask the Grounder to tell them which one has the antidote but he doesn't speak. Bellamy tells Clarke she doesn't have to be there while he tortures the Grounder to find the antidote, but Clarke stays. Octavia begs him to stop, telling him the Grounder saved their lives even though Finn was dying downstairs. Bellamy brutally tortures the Grounder, whipping him with a seatbelt, yet the Grounder still will not speak.
On the Ark, Jaha speaks at the General Assembly, telling all the Station Representatives that earth is survivable and they now have time to get everyone to the ground. Ridley questions Jaha, asking if he's finally telling the truth and gets angry at him about the death of his wife. Jaha tells them how he also lost his son. Diana Sydney comes up to him to apologize and then speaks to the General Assembly, telling them that because of the sacrifice of their loved ones, their children will now be able to go to the ground. Ridley says they still can't trust the Council so Jaha gives Sydney Abby's old position on the Council to foster trust.
Bellamy and Clarke escalate the torture of the Grounder with Bellamy putting a spike through his hand. Raven comes into the room after Finn almost dies again and begins to electrocute the Grounder, causing him to scream in agony. Octavia puts a stop to it by slicing herself with the knife that the Grounder used on Finn, saying that the Grounder wouldn't let her die. The Grounder finally helps Octavia find the correct antidote to save her (and Finn).
Clarke gives the antidote to Finn and sends Raven out for water. Abby comes on the radio and Clarke tells her she knows about her mother's involvement with her father's death.
Kane is at the "last tree," giving it some of his daily water ration. His mother, Vera, enters and he breaks down, telling her that he doesn't even know who he is anymore. She tells him he is her son and that God will forgive him but he needs to also forgive himself and she gives him a hug.
Clarke tries to clean the Grounder's wounds but he sees Octavia enter the room and refuses to let Clarke do so. Octavia walks over to help and he allows her to clean up his wounds. Clarke tells Octavia that they tortured him to save Finn. Octavia replies that Clarke didn't even save Finn; Octavia did. Clarke leaves and Octavia apologizes to the Grounder for the "thanks" he got for saving her life. He then speaks for the first time, thanking Octavia for helping him. Miller asks if he heard the Grounder speak and Octavia lies to him before Miller makes her leave.
When Finn wakes up, Clarke tells Finn that Raven needs him and calls Raven over to him. She leaves the drop ship and sees the delinquents cleaning up camp after the storm. Bellamy approaches her, taking the spike that had been in the Grounder's hand and tells her, "who we are and who we need to be to survive are very different things," and that it is hard being in charge.
Diana Sydney is sworn in as a Council member on the Ark. Jaha reveals that the problem with Project Exodus is that there are 2237 people on the Ark but they only have enough space for 700 to get to earth.
Starring
Edit
Guest Starring
Edit
Notes & Trivia
Edit
The Grounder speaks for the first time in this episode, thanking Octavia for cleaning his wounds.
Jasper and Monty did not appear in this episode.

It was mentioned early on in the episode that Jasper and Monty had not returned yet.
Jasper was making gunpowder while Monty helped him and both got caught in the storm.

Octavia gives Clarke Monty's moonshine as disinfectant.
This and Earth Skills are the only two episodes where no one died.
Body Count
Edit
Behind the Scenes
Edit
Octavia was correct that no germ can live in moonshine because of its high alcohol content.

In fact, bacteria can not live in any type of alcohol.
Production Notes
Edit
Contents Under Pressure attracted 1.88 million viewers on the original airing and had a ratings/share of 0.6/2 in the key 18-49 demographic.[1]
Multimedia
Edit
| Song Title | Album | Artist | Purchase |
| --- | --- | --- | --- |
Pictures
Edit
See Also
Edit
References
Edit
Ad blocker interference detected!
Wikia is a free-to-use site that makes money from advertising. We have a modified experience for viewers using ad blockers

Wikia is not accessible if you've made further modifications. Remove the custom ad blocker rule(s) and the page will load as expected.